WISA-Trans
transportation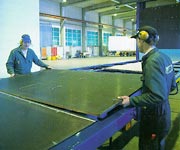 WISA-Trans is a specialist plywood panel designed for demanding use in the vehicle industry. By virtue of its strength, outstanding quality and long service life WISA-Trans is one of the most economical decking materials available. WISA-Trans decking panels make it possible to safely reduce vehicle weight, saving fuel and increasing load capacity. Because the panels are weather resistant, hardwearing and extremely rigid in comparison to their light weight, they are especially well suited for heavy duty transport application. To the body builder, their precise panel format can represent considerable savings in time when fitting and fixing.
Plywood Core
The baseboard for WISA-Trans is made up from selected birch veneers 1.4mm thick. This thin veneer construction makes an extremely strong, homogeneous plywood, essential for high quality performance. The veneers are bonded together with a weather and boilproof (WBP) phenolic resin.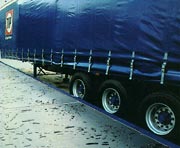 Surface Coating
The birch plywood panel has phenolic coating, fused to each face by heat and pressure. The top wear surface has a thick phenol resin laminate which is highly resistant to abrasion and wear. Its impressed waffle-pattern increases friction both for cargo and operatives. The reverse side has a smooth phenolic surface which resists the pick-up of moisture and road grime. Panel edges are factory-sealed with weather resisting paint to prevent moisture penetration into the panel. Any machined and sawn edges must be resealed with paint. A minimum of two layers of paint is recommended.
Edge and CNC machinings are available according to customers' needs. We are able to offer a very flexible range of sizes.